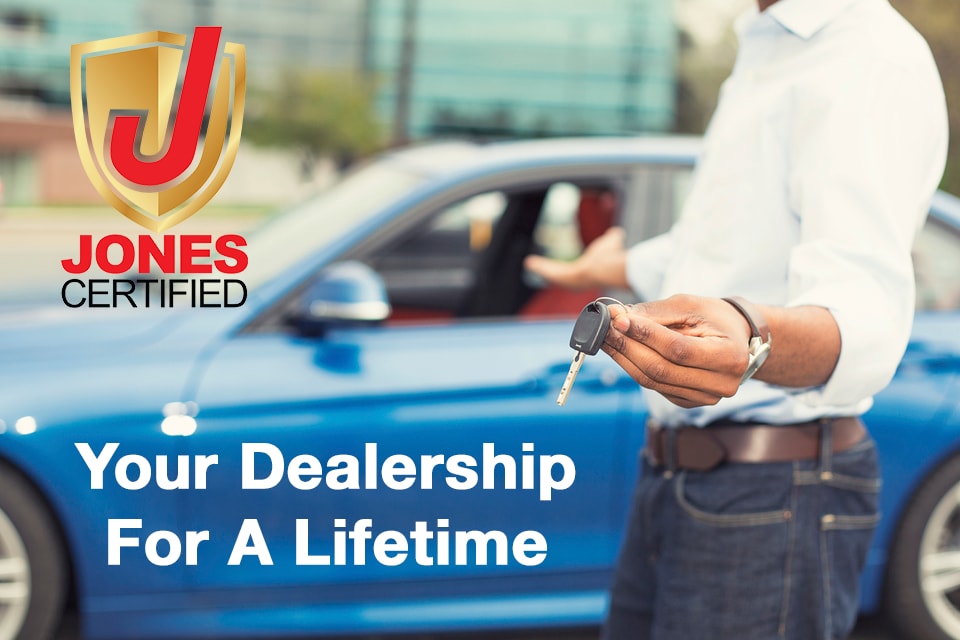 With the largest used car inventory at one location in the State of Maryland, Jones Used Cars takes pride in being able to meet every customer's used car needs. With over 1,000 vehicles in stock, Jones Used Cars is proud to offer its customers over 200 makes and models of cars, trucks, vans and SUVs.
 
Our inventory is primarily compromised of locally owned vehicles which were serviced in the area. Each one of these vehicles is hand-picked by our ownership and management team who assemble every morning to evaluate the previous day's trades. Part of this evaluation is a thorough review of the vehicle's Carfax report, which reveals the service records of the vehicle as well as any accidents the vehicle has experienced. If there are ANY concerns about the vehicle, the vehicle is rejected immediately and sent to auction.
 
After the evaluation process, the vehicles are sent to our state of the art service departments where a team of factory trained and certified technicians perform a 155 point inspection. This inspection includes a review of everything from the tires and breaks to the engine and transmission. After all of the vehicle's recalls are completed, our vehicles are then road tested to ensure quality drivability. Next, our vehicles are sent for an interior and exterior detail process where the emphasis is on the details. We make our vehicles shine like new after this detail process.
 
Once the vehicle is ready for sale, the vehicle enters our state of the art photo booth where our photo technicians take a variety of interior and exterior photos so that our customers can view our inventory online at jonesusedcars.com.
 
Additionally, all of our used vehicles are eligible for our industry leading Jones for a Lifetime program. As part of this program, you will enjoy free oil changes, free carwashes, and engine guarantee. All of these benefits are available to our customers for the lifetime of their vehicle.
 

Here at Jones Used Cars we do all this to ensure that any vehicle you buy from us is of the highest quality and can be counted on for years of worry free ownership.
Maintenance
Engine oil and filter - change / replace
Lube chassis
Inspect repair/ replace as needed
Battery: volatage; clean and secure connections; tray, retainer and vent tubes
Drive and serpentine belt
All hoses and clamps
Air and cabin filter (if equipped)
Wiper blade condition
Check warning lights
Check engine light
Air bags and warning light
Anti-lock break system (ABS)
Traction control
Tire pressure monitoring system (TPMS)
Fluids - check, top off
Transmission fluid
Power steering fluid
Brake fluid
Coolant
Windshield fluid
Vehicle Check
Jones Junction reviews the following items prior to certification
Check for open recalls
Review CARFAX history
Clean title
Owner's manual
Interior
Jones Junction checks for proper operation and any damage
Power seats
Horn
Seat belts; wear and operation
Power doors/ sliding doors/ hatches
Power windows
Power mirrors
Door locks
Child safety locks
Rearview mirrors
Steering wheel; tilt, telescoping, touch controls
Spare tire, jack and tool kit or inflation device (if applicable)
Hood, trunk and fuel lid releases
Courtesy lights
Sun visor, sun visor lights
Reset all technology solutions to remove all previous driver data ex: infotainment system, driver preferences, MyKey, driver seat settings, lane departure etc.
Infotainment system: navigation, radio, all video equipment, Bluetooth function, CD player
Cup holders
Trunk cover
Accessory outlets
Glove compartment
Sunroof/ sunshade operation
Convertible top (if applicable)
Test Drive
Engine: startup, idle, and sound quality, acceleration
Transmission: shift performance, shift interlock, AWD/2WD/4WD engagement
Listen for abnormal squeaks, rattles, noise
Driver assist features
Steering wheel alignment: centered, ease of turning
Brake function, anti-lock breaks, smooth stop
Alignment/ drift/ pull
Turn signals/hazards
Cruise control
Dash panel gauges/ compass
Odometer/trip
HVAC performance
Climate controls
Fan speed control
Defrost
Recirculation
Mirrors
Wiper operation: front/ rear
Exterior
Tail lamp and brake lights
Headlights: properly aimed, high/low
Directional signal lights
Parking lights
Reverse lights
Hazard lights
License plate light
Inspections
State safety inspection
State emissions inspection 
Maryland State Safety Inspection
Under The Vehicle
Jones Junction checks for any damage and proper operation
Exhaust system; including hangers and muffler
Frame/ unibody
Fuel tank
Control arms
Steering system
Rack and pinion
Shock absorbers/ struts/ suspension
Springs/ sway bars
Transmission mounts, seals and gaskets
CV joints/ boots
Axles
Differentials
Transfer case (4x4)
Driveshaft/ universal joints
Oil pan
Active grille shutter
Ignition system
Engine mounts, seals and gaskets
Cooling system;s radiator condition, condenser, cooling fan
AC compressor
AC refrigerant lines
Alternator, starter
Fuel system
Brakes
Verify front and rear have beyond Maryland state safety standard for wear
Drums - inspect; measure inside diameter for adherence to manufacture specifications, clean surface
Rotors - measure thickness for adherence to manufacturer specifications, inspect for grooves and pits; clean surface to remove dust and dirt
Lines- inspect; check fitting for leaks
Calipers operate properly
Parking brake operation
Tires
Verify size, speed rating and load range according to manufacturer placard
Tread - more than 4/32" tread
Inspect for damage
Evaluate need of rotation
Wheel lugs (all) - check for torque
Correct PSI according to manufacture placard specs
Hours
Monday

9:00AM - 9:00PM

Tuesday

9:00AM - 9:00PM

Wednesday

9:00AM - 9:00PM

Thursday

9:00AM - 9:00PM

Friday

9:00AM - 9:00PM

Saturday

9:00AM - 8:00PM

Sunday

Closed