Online Vehicle Shopping & Delivery Service Available at Jones Used Cards
If you're in the market for a pre-owned vehicle in Bel Air, MD, look no further than Jones Used Cars!  A premium used car dealership offering drivers with an array of affordable makes and models, we're confident there's something for everyone here in our showroom.  To help make your car-buying journey even more enjoyable, shoppers can explore our new inventory, apply for financing, and also take a test drive of your favorite models from home! That's right.  Take advantage of our online vehicle shopping extravaganza and find yourself a used vehicle without ever leaving the comfort of your home.

Steps to Help Successfully Buy Your Next Car Online
Online shopping is the wave of the future, especially now that you're able to buy cars online and have them delivered to your home in White Marsh.  Digital retailing here at Jones Used Cars is all about the experience, and there a few critical steps to be aware of to ensure your online car-buying journey is successful:
Explore our used inventory
- Take a virtual walkaround of our used inventory showroom and explore all of the different makes and models that we have for sale.  If you see something that you like, let one of our Jones employees know so we can begin preparing that vehicle for you to test drive.
Schedule a test-drive
- After confirming what time of the day works best for your schedule, our staff will transport your test-drive to your driveway at your home in Cockeysville.  Our staff will ensure the vehicle is thoroughly cleaned and sanitized before handing you the keys.
Customize your payment
- If you like how it drives, it's time to consider how you plan to pay.  Customizing your payment plan is a convenient way for customers to review their financial history to determine how much they can afford to put down and pay each month.
Value your trade
- If you've got an old vehicle taking up space in your driveway that you want to get rid of, our Jones Used Cars team can help with that.  Give us some information about your old vehicle and the condition that it's in before your test drive so that when you are out to test-drive our staff can start to value your trade.
Apply for financing
- One of the most stressful parts of buying a car is auto-financing, but here at Jones, we make it easy and stress-free.  Fill out the short application on our website under the Finance tab and give our team a day or two to review your status before getting you approved.
Schedule pickup or delivery
- The last step of the process, after all of the paperwork is completed, we ask that you please schedule a time for pickup or delivery.  If you live close to our dealership in Ellicott City, we'd be happy to deliver your new-to-you vehicle to your driveway.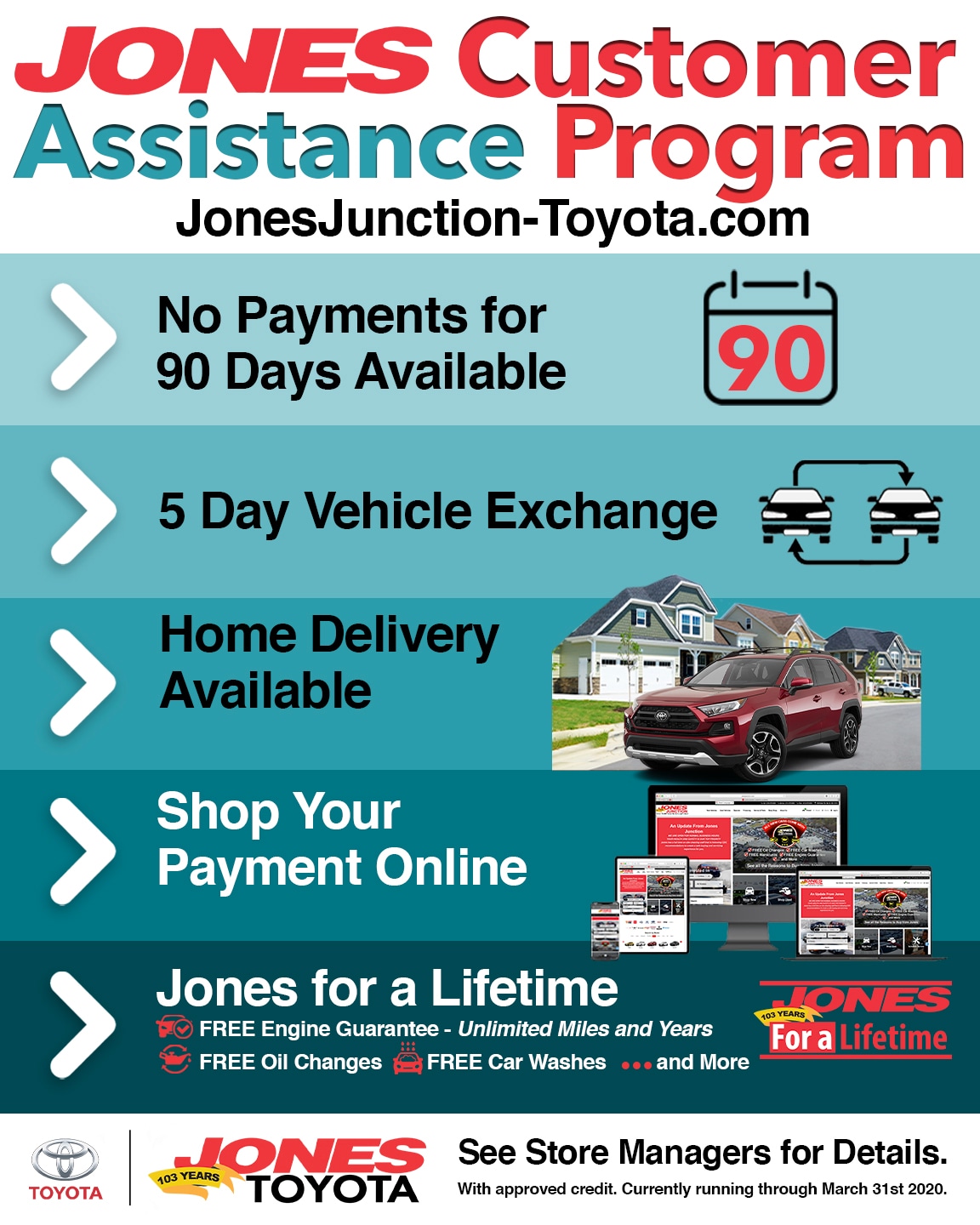 Why Shop with us at Jones Used Cars?
Here at Jones Used Cars, our used inventory is highlighted by a group of affordable automobiles ranging from luxury sedans to adventure SUVs.  Featuring something unique for everyone, our used inventory is perfect for the budget-conscious shopper who's looking to get a good deal on your next vehicle.
Additionally, our auto service pickup and delivery options make it easy to get your vehicle serviced or repaired.  Without ever leaving the comfort of your home, you can get your vehicle serviced and ready for the roads ahead in Bel Air, MD.  We're also offering no payment for up to 90 days and a five-day no-hassle vehicle exchange policy.
For more information and to speak with a team member about buying your next car online, please call or contact us online at Jones Used Cars today!  We look forward to hearing from you!